Do you want to show employees your appreciation for their hard work? Now that so many workers are off-site because of COVID-19, showing appreciation for a well-done job needs to be done differently. But virtual employee appreciation is possible with the ideas highlighted below.
Personalized Employee Recognition Gift Plaques
Demonstrate remote employee appreciation by:
Give Them Work From Home Equipment
One of the best gifts for employees working from home is to give them high-quality office equipment. Remote workers are known to suffer from back and neck pain, which will slowly affect their health over the months.
Your business can fight these inevitable health issues that damage worker productivity by offering a choice of ergonomic office equipment that solves these health problems.
First, write a list of work at home equipment your firm is willing to give out and send it to your workers. Ask them to provide their preferences. Once your workers have turned in their requests, have all of the equipment shipped to their homes. This will make your employees happy and will reduce future healthcare costs.
Give Long Weekends
Who doesn't like a pleasant surprise at the end of a tough work week? The grind of working from home can wear out remote workers. So think about allowing your best remote workers to take one Friday off per month. This is an excellent way to reward employees and give them more time to spend with loved ones, blow off steam, and destress before the next week. A long weekend is even more important for the worker who has children, housework, and is stressed by the current global news environment. Studies show our brains are not designed to consume world tragedy at the rate we are today. This extra time can allow employees to recharge their batteries and come back to work refreshed and reenergized.
Provide Discounts on Food Takeout and Delivery
Food delivery has increased drastically in 2020 with the COVID-19 pandemic. Employees stay home to safeguard their families and themselves. Many workers are running out of recipes to make at home. Cooking meals every day for the family can be taxing, especially for workers with young children.
Your firm can show appreciation for working employees by giving them credits and discounts for food delivery apps. This reduces stress for workers who need support during the pandemic. But it also helps restaurants stay in business, who are suffering due to the lack of walk-in lunch and dinner traffic.
Provide Worker Awards
Do you have remote workers who always go above and beyond and routinely do excellent work? Giving the most productive and efficient workers a recognition award is an effective way to show appreciation to your remote workers. You can have a remote award ceremony for all of your remote workers and offer prizes for the most efficient and productive employees each month.
Provide Personal Recognition for Excellent Work
For employee recognition to be most effective, it needs to be specific and personal. One way to do this is to send personalized credit to workers who have been on top of their job since your company started to work remotely.
A simple way to provide personal recognition is to have a recognition and rewards platform to deliver customized messages to employees and thank them for their efficiency and hard work. These messages should be published in a social network or intranet so other workers can see them. Be sure you are specific about what the employee did right. This reinforces positive behavior and tells other workers what they need to do to be recognized in the same way.
Devise a Virtual Wellness Program
Another way to show appreciation for remote employees is to start a virtual wellness program. An employee wellness program shows that you care about your workers' health and wellbeing during challenging times. When you make a wellness program, you should establish wellness and fitness goals. For instance, you can set a goal of exercising for 30 minutes each day for a month or meditating every night before bed. Wellness goals do not have to be hard to reach. The idea is to show employees you want them to boost their health for the long term.
Give Gifts To Workers' Pets
This idea may come as a total surprise to your workers. A gift for a worker's pet is unexpected, and most people will love it. You can send workers packages with treats and toys for their dogs and cats. If your employee likes to take their dog to the park, think about giving them a Chuckit! Pro Launcher that lets them play fetch for hours.
Give Them a Spa Care Package
With the global pandemic and uncertainty in the political world, workers are stressed and overwhelmed about what the future could bring. A simple way to show appreciation to your workers is to send them an at-home spa care package. It can include bath salts, aromatic candles, teas, and honey. This small gift will encourage workers to engage in self-care and destress when they are not working.
Provide Online Learning Courses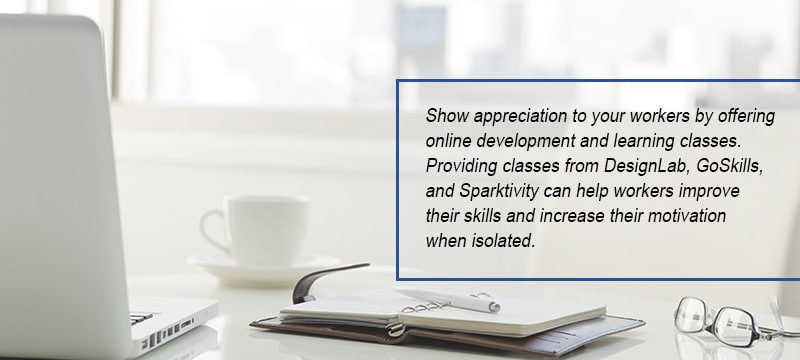 Workers who work remotely could feel a bit at sea regarding professional development. Working from home daily lacks the social benefits that working in an office does. Some employees may wonder how they can advance in their careers if they are never around their supervisors or upper-level managers.
You can show appreciation to your workers by offering online development and learning classes. Providing classes from DesignLab, GoSkills, and Sparktivity can help workers improve their skills and increase their motivation when isolated.
In summary, it is easy for remote workers to feel a dip in motivation and purpose when they are isolated for months at a time at home. Give the above ideas a try, and you will find your remote workers will feel more appreciated for their hard work in an unprecedented time.