Keeping your employees' morale high is essential to maintaining their motivation to work hard. When people feel overly stressed or underappreciated at their company, they tend to disengage naturally and their work suffers. A company needs to cultivate a positive culture that can boost morale at work and empower employees to perform their jobs to the best of their abilities.
Personalized Employee Recognition Gift Plaques
The Benefits of Motivating Employees and Boosting Morale
Research has shown a positive workplace culture can increase workers' productivity and efficiency, as well as decrease employee turnover. Those who actually enjoy going to work are more inclined to dedicate themselves to their jobs and stay with their company. To avoid a high turnover rate and draining the company's budget to train new employees each year, you can commit to creating an environment where your employees feel confident and valued in their work efforts each day.
There are some ways to boost your team's morale quickly and temporarily when you're in a pinch. But the key to securing employee happiness, motivation and retention for the long term is to make mutual respect and appreciation the foundation of your company culture. Routinely recognizing the time and energy your employees pour into your company with praise, rewards and breaks can make them feel valued and help keep them from burnout.
Successfully shaping your company culture to ensure employee morale and motivation remain high may help your company navigate uncertain times as employees band together to overcome the crisis. As a bonus, happy employees may rate your company well on workplace review sites like Glassdoor, which can make it easier for your company to continue hiring hard workers.
10 Ways to Boost Morale and Motivate Employees
To find out more about the importance of giving awards at work and specific tips on how to motivate employees, explore these ten surprising ways to motivate employees and boost morale:
1. Create an Incentive Program
An incentive program is key in motivating employees to keep growing in their careers and pushing themselves to the next professional level. Most people respond well to being rewarded, but not all rewards are worth working for. To inspire people to work autonomously, an incentive has to be good.
Center your incentive program around rewards that can help employees improve personally and professionally — like complimentary access to books, streaming services or podcasts. Include materials that relate to their work responsibilities, but also incorporate resources aimed to enrich them as people. Whenever possible, personalize the program. If there's a certain hobby an employee has always wanted to try, such as kickboxing, consider paying for some of their classes.
Developing an incentive program can motivate employees to keep working toward long-term rewards. If office morale is ever particularly low, there are some short-term fixes you could implement. For example, you could bring in therapy dogs, host an office trivia tournament or hire a food truck for the day — anything to decrease stress and boost serotonin.
2. Be Transparent
Honesty is truly the best policy. When there is a problem or uncertainty at the office, don't try to cover it up or hide it from employees. Hiding things from your employees may erode their trust in both you and the company.
Employees do not want to work for someone they can't trust. Being upfront and honest can make your employees feel included, valued and motivated to contribute to the team. Keeping employees up to date about any company news, feedback reports and new policies can help earn their trust and respect. Trust is a two-way street, so if they can trust you to keep them informed on the latest company news, you can trust them to put their best effort into their work.
Encouraging open and honest communication among all levels of seniority can boost morale at work by making everyone feel heard. Demonstrating to employees that you are human, not just an executive, can show them that you recognize they are human as well. Making work personal in this way may help motivate employees to give their all to the job.
3. Promote a Healthy Work-Life Balance
Overworked employees can quickly become exhausted and disillusioned with their work. If you want to avoid losing employees to burnout, promote a company culture that values a healthy work-life balance.
Simply telling employees that they should have a healthy work-life balance is not enough. You may have to incorporate intentional measures into your company policies. For example, you can create and enforce a no emailing rule for a certain time period to help your employees unplug from work once they've left the office. Additionally, you can encourage employees to take their vacation days by giving a small bonus to those who take time off.
Giving your employees the chance to recharge during out-of-office hours can help them feel more energized in the mornings and boost productivity in the long run. Employees with more well-balanced lives may be less likely to quit, saving you from expending the time, money and resources that training new employees would require.
4. Build Team Morale Outside of the Office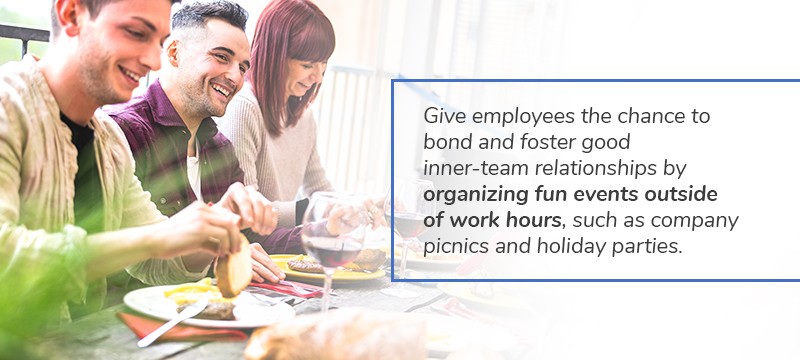 Your co-workers become your second family, so you want to make sure employees know each other on a personal level. Give employees the chance to bond and foster good inner-team relationships by organizing fun events outside of work hours, such as company picnics and holiday parties. You can emphasize the familial feeling by encouraging employees to invite their family members or friends to these events.
Remember that it's never too early to get employees involved. Invite new hires to these events so they feel like part of the family before they even step foot in the office. Forming these personal connections can make employees feel more comfortable at work and cultivate company loyalty.
5. Be Open to Employee Feedback
Stay connected with employees by consistently welcoming their feedback. Collecting feedback from employees is the best way to know what your company is doing well and what it could improve upon. By staying up to date on a team's feelings, you can avoid getting taken by surprise by any resignations or complaints.
Encouraging employees to come to you whenever there's a problem is a good practice, but you can also take initiative by setting up feedback interviews. Use this time to ask employees what keeps them at your company and what changes they'd like to see around the office.
Employee feedback can also be beneficial when business isn't booming. Your employees may be able to offer solutions you would have never thought of because of their unique perspectives. Make sure you let employees know how helpful their feedback was after they give it to motivate them to keep voicing their thoughts.
6. Share Ideas and Listen to Your Employees
Keeping open communication with employees can enhance your company's work culture and success. Create a comfortable environment for exchanging ideas by being open, sharing your ideas and genuinely listening to employees' ideas. Share your ideas with employees, even if you haven't quite worked out the details. Promote inclusion and mutual respect by bringing employees into conversations that affect them and their work.
Let go of any pressure you may put on yourself as the head of a team and accept that you won't always have all the answers. Sometimes an employee figures out an issue that you couldn't, and having the humility to listen and take their advice can serve you well as a leader.
If you put a co-worker's idea into practice, remind them how valuable they and their contributions to the company are by giving them credit for the idea whenever it's discussed. Recognizing and validating their input demonstrates how much their opinions matter.
Try starting each day by gathering your team to swap ideas — you can make it fun by bringing in baked goods, coffee or other breakfast items. Begin by checking in with everyone and then launch into brainstorming together. Ask questions like these to get the conversation rolling:
How is your team's energy, and how are you feeling personally?
What's one thing that's going well and one thing that could be better?
How can I help today go smoothly for you and your team?
7. Engage in Team-Building Activities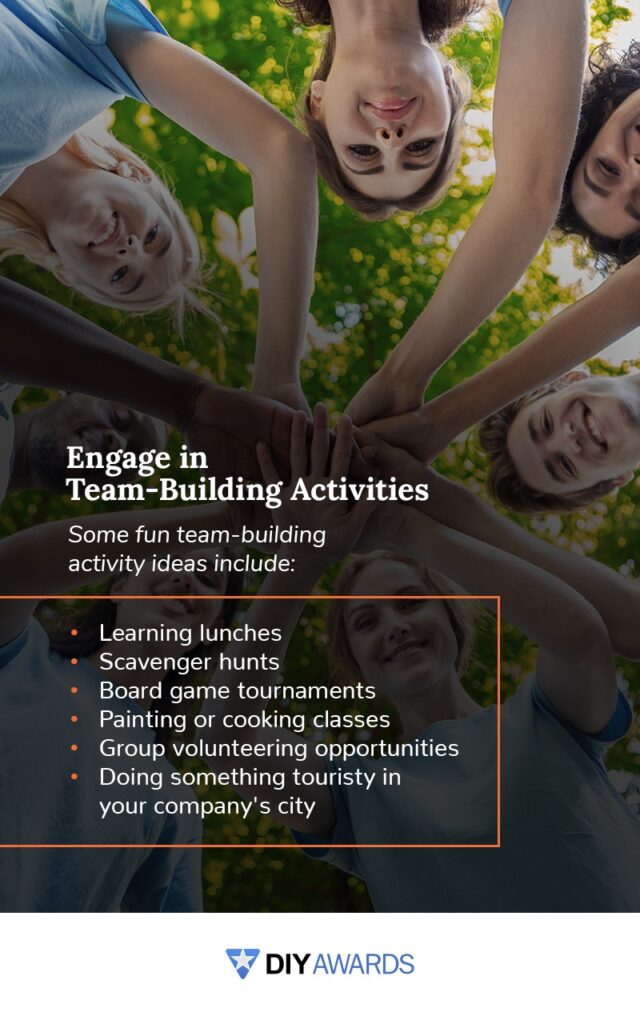 When employee morale is low, team-building activities are a good way to reestablish camaraderie among co-workers and raise their spirits. Company-wide activities present the opportunity for employees from different departments to intermix and form connections. This gives many people the chance to put a face to a name they may have only ever seen at the bottom of an email. These interactions can lead to improved communication once everyone's back at the office.
Get the most out of your team-building activities by making them enjoyable as well as educational. When giving a paid day out of the office, you can make it something exciting to look forward to. Some fun team-building activity ideas include:
Learning lunches
Scavenger hunts
Board game tournaments
Painting or cooking classes
Group volunteering opportunities
Doing something touristy in your company's city
A team-building activity is more of a quick fix and likely won't solve long-term issues. But it may serve to lift employee morale in the interim as you develop more long-lasting solutions.
8. Reduce Unnecessary Stresses in the Workplace
It's hard to focus when you're stressed out. In fact, 50% of U.S. employees say they lose one to five hours of work time each week due to stress. Make it easier for your employees to be productive by removing any unnecessary sources of stress from the office.
Although you can never completely eliminate stress from a workplace, there are some simple stressors you can mitigate. These include making sure all essential office supplies are well-stocked and that the kitchen has plenty of provisions. By keeping things running smoothly, you can create an environment conducive to efficiency.
9. Provide Small Gestures of Kindness
Don't underestimate the little things. Giving small gifts is a simple way to make employees happy. Gifts can have a positive impact on morale as long as they involve some thought and communicate a sincere appreciation for the receiver. These types of gestures can range from company swag to homemade Christmas cookies and a card.
Small gifts can be a nice surprise for hardworking employees or a treat to recognize life events. Show employees you care about them and pay attention to the details of their lives by remembering to celebrate milestones with them. From birthdays and anniversaries to weddings and births, letting employees know their work family is thinking of them helps them feel more connected to the company.
10. Host an Awards Ceremony
If employee recognition is ingrained in your company culture through the previous nine tips, do awards matter at work? They do if you want to keep your best employees around as long as possible. Although each employee should feel valued at work daily, you may want to set aside time to recognize some of the standout employees to show that your company rewards hard work and respects loyalty.
An awards ceremony is a fun way to honor the hardworking employees who dedicate hours of their time to making your company better each year. Personalized employee awards or plaques can be given across departments and in multiple categories, including:
Sales
Customer service
Leadership
Safety
Achievement
Years of service
These awards stand as a lasting, tangible reminder that the recipient's efforts do not go unnoticed, and the ceremony serves as a fun gathering for everyone to celebrate alongside the winners. Making the event an annual tradition to recognize those who go above and beyond can keep employees motivated all year long.
Order Your Employee Recognition Awards From DIY Awards
If you're looking to boost employees' morale and keep them motivated at work, create the perfect employee recognition awards with DIY Awards. Our awards are custom, crystal and handmade specially for your event. All of our plaques and awards are 100% customizable at no additional charge, so you can change any text to suit your preferences and add your company's logo. Unlike alternatives, DIY Awards uses clear optical crystal to make our products. Each award is high-quality, with deep-etched engraving and hand-painted coloring. This attention to detail shows your employees what their work means to you.A personalized award can make your employees feel like the valued member of your team that they are. If you want to reignite your employees' passion for their work, contact DIY Awards today.