When it's time to honor the person leading your flock, consider why gift-giving is such an important part of the equation. A pastor gives in every sense of the word. They give their time, wisdom, expertise, prayers and leadership to the church. That's why choosing a good gift for a pastor is such an integral part of any celebration honoring the head of your church. The question, of course, is what gift you should get your pastor to say thank you for all they do.
Personalized Pastor Appreciation Gift Plaques
How can you express your gratitude in a way that's personal, thoughtful and creative? We're going to consider several special occasions for honoring your pastor and look at four gift ideas for each to help you come up with the right way to put a smile on your pastor's face and help them realize the meaningful role they play in your life personally and the life of your church as a whole.
Pastor Appreciation Day
October is Pastor Appreciation Month, and the second Sunday in October is designated at Pastor Appreciation Day. While you can share your appreciation for your pastor at any time of year, this day provides the perfect opportunity for letting pastors know how loved and admired they are. Some churches choose to bring the congregation together to provide one appreciation gift, while other churches may leave it up to individuals to pick out their own gifts to express their thankfulness.
Even if you're pitching in on a gift that is coming from the whole congregation, consider writing a personal letter or card to give your pastor to express your gratitude personally. To show appreciation in a tangible way that will continue to remind your pastor how much they mean to you or your congregation, consider these gift ideas:
Personalized pen: Whether writing letters, composing sermons or taking notes, pastors tend to do a lot of writing. That's why a nice pen that writes well makes a practical gift. By personalizing the pen, you can make it a meaningful keepsake and not just a helpful tool. You can find wooden pens that can be engraved or printed on with your pastor's name and kept in an elegant wooden case on their desk when not in use.
Coffee subscription box: If your pastor is a coffee-lover, why not treat them to a new gourmet coffee to try each month? There are many popular coffee subscription box services you can choose from, some of which source their coffee from all over the world to provide a new single-origin coffee experience every month. For pastors who aren't coffee drinkers, consider a subscription box for tea or another treat they happen to love. With a subscription box, your pastor gets monthly reminders of how appreciated they are.
Noise-canceling headphones: When your pastor is spending quiet time in the Word or working on composing a sermon, noise-canceling headphones can help them maintain their focus and even enjoy some worship music. These headphones come in a range of price points, so you can choose a pair that is as affordable or as high-tech as you want. Your pastor is sure to appreciate the assistance is achieving peace and quiet when they're praying, reading or writing.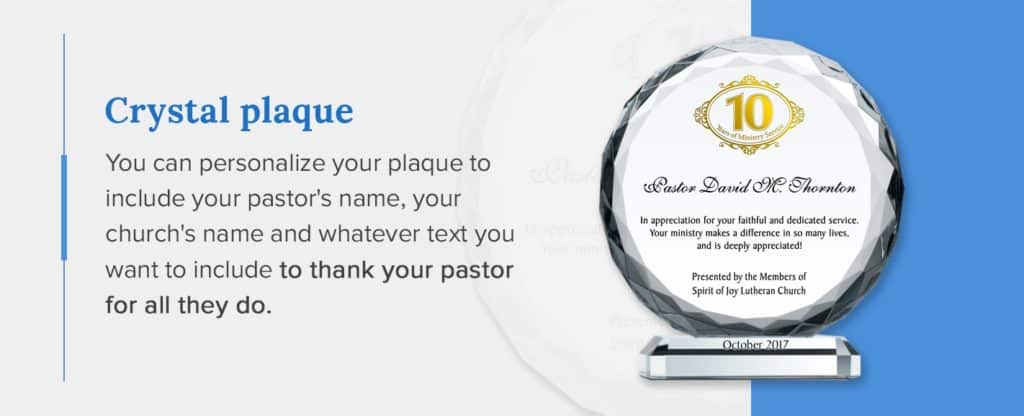 Crystal plaque: If you're looking for a monumental way to say thank you to your pastor, consider a beautiful crystal pastor appreciation plaque. You can personalize your plaque to include your pastor's name, your church's name and whatever text you want to include to thank your pastor for all they do. These plaques come in a variety of shapes and styles so you can select one you know your pastor would be proud to have on their desk or bookcase. Every time they see it, they'll be reminded of how much they are appreciated.
Ordination and Installation
Becoming ordained is a monumental occasion in a pastor's life and marks the start of a new chapter. When a friend, a family member or an elder in your church becomes ordained, this is an occasion worth celebrating. When your church receives a new pastor, this is also an exciting occasion, both for your church and for the incoming pastor. Both ordination and installation can also cause pastors to feel nervous about their new responsibilities.
The perfect way to reassure these pastors and remind them that they have a strong support system is to give them a thoughtful gift. Here are some ideas to consider that will help you commemorate this exciting start in your pastor's life:
Restaurant gift cards: For installations, why not give a gift that will help your incoming pastor become familiar with their new community? Gather gift cards to the best restaurants in town, including the best pizza place, best burger join, best ice cream parlor and more. If you happen to know your new pastor is a fan of a certain cuisine, be sure to include a gift card for a local restaurant that offers this cuisine. Gift cards to local restaurants will help your pastor and their family settle in and enjoy the best eats your city has to offer.
Preaching Bible: For both an ordination and an installation, a preaching Bible is a great gift to consider. While you can assume your pastor already has a cherished Bible where they've highlighted text and written notes in the margins, a preaching Bible is designed to be easy to read from the pulpit. It may feature large print text and separate verses for easy navigation. It may also include multiple ribbons to mark pages for easy reference. If you choose to get your pastor a preaching Bible, be sure to find one in their preferred translation.
Personalized Bible cover: A Bible cover is another great idea for a new or newly installed pastor since it will protect their Bible and make it easier to carry from place to place. Bible covers come in a variety of sizes, materials and designs, so you can find one that suits your pastor's personal style and the size of their Bible. For a personal touch, have their name added in metallic lettering or embroidered, embossed or burned on the cover.
Crystal ordination plaque: Especially in the case of ordination, you should consider getting a gift that marks the occasion with an impressive level of elegance. Crystal is naturally reflective and luminous — a material that's almost as profound as the occasion being honored. Crystal ordination plaques come in a variety of styles with different artistic engravings and provide the opportunity to personalize the message to honor the newly ordained pastor.
Birthday
Birthdays are a fun occasion for showing your pastor you care. Pastors give selflessly every day, so they deserve to be celebrated on their birthday. What better way to show your appreciation than a thoughtfully chosen birthday gift? Birthday gifts should reflect your pastor's personal preferences, so think about your pastor's unique interests, hobbies or style. You should also give a gift they can use so they are reminded of how much they are loved.
Birthday gifts can be less formal than gifts to mark monumental occasions like ordinations or anniversaries, and you can select a gift at any price point you're looking for. Here are a few birthday gift ideas to consider:
Music streaming subscription: Most pastors love listening to music while they study, pray, drive or simply hang out at home. For a pastor who loves music, consider getting them a premium subscription to a music-streaming service. While some of the most popular music streaming apps and websites have a free option that includes ads, you can pay for a premium subscription that eliminates ads and may allow you to download music for offline listening. If your pastor already has a free account, give them a gift card to upgrade it.
Notebook: We all tend to fill up notebooks, and pastors are no different. In fact, your pastor may use notebooks more than you do, between Bible journaling, outlining sermons, taking down prayer requests and more. Look for a nice, leather-bound notebook your pastor can take with them wherever they go. You may want to consider a notebook designed specifically for a certain activity, like Bible journaling, or stick with a general-purpose notebook and write a message inside to share your appreciation.
Personalized T-shirt: Does your pastor have a signature phrase or a favorite Bible verse they like to repeat? If so, consider creating a personalized T-shirt that includes this signature phrase or verse. It could even include a running joke that your congregation would get. A personalized shirt can be a fun and creative way to show your pastor you know them well and that you enjoy the things that make them unique. They are likely to smile each time they put it on.
Wristwatch: A wristwatch is a practical tool that can also be an elegant piece of jewelry. Both men's and women's wristwatches are available in endless styles, colors, metals and more, so you can choose one that you're sure your pastor will love. You may even be able to engrave the back of the watch for a personal touch. A nice watch is made to last, so your pastor can use it and enjoy it for many years.
Retirement
Retirement is a bittersweet occasion for both pastors and the congregations they serve. When a beloved pastor retires, they should be honored by the members of their congregation and reminded of the positive impact they've had on others' lives. Retirement gifts can help you show your love and respect for your pastor. Gifts they can keep for years to come will serve as a continual reminder of how appreciated they still are.
Gifts for your retiring pastor can come from the whole congregation or from individuals in your church. Either way, make sure your pastor gets a personal note from you that thanks them for their years of faithful service. Here are some ideas to make your pastor feel appreciated as they retire from the pastorate:
Memories collection: One idea is to have every member of the congregation, or at least every family, write down a special memory that stands out to them from their time having the new retiree as their pastor. These memories can all be placed in an album or a special box so your retiring pastor can read through the memories one by one and feel touched by the impact they had and all the fun times they were a part of.
Personalized blanket: A throw blanket or quilt is a beautiful and practical gift your pastor and their family can feature in their home. If you have someone in your congregation who knits, crochets or quilts, you may want to have them make a unique blanket for your retiring pastor. You can also find lovely throw blankets online that can be personalized with an embroidered message to thank your pastor for all they've done.
Crystal monument: To mark the special milestone of retirement in an unforgettable way, get your pastor a gorgeous, engraved crystal monument. With a three-dimensional design in the shape of your choice, you can choose a monument that will be a focal point in your pastor's home throughout their retirement. You can customize the text to thank your retiring pastor in a personal way.
Gift basket: In addition to a gift that will last, you may also want to put together a pastor gift basket for your retiring pastor and their family that helps them celebrate the occasion. This basket could include homemade goodies from various members of the congregation, local delicacies and fruit along with some books for your pastor to enjoy reading in their retirement.
Pastor or Church Anniversary
Anniversaries are the perfect opportunity to look back and reflect on how much has happened in the last five, 10, 15 or more years. Pastor anniversaries mark the time that a pastor has been installed at a particular church or the time that has passed since they were first ordained. A church anniversary marks how long a church has existed. This occasion is exciting for churches that have marked one year, as well as churches that were founded a century or two ago.
To mark a pastor or church anniversary, you want to choose a gift that marks the occasion and can remain on display for years to come to remind your pastor or your church of the important milestones you've experienced. Here are a few ideas to consider:
Wall hanging: A wall hanging can be a great gift idea for a pastor or for a church to celebrate an anniversary milestone. You can find some beautiful wall hangings that include scripture in them from some home decor stores and Christian stores, or you can create a unique piece of artwork by commissioning a local artist, perhaps one in your own congregation. For a church anniversary, consider a painting of your building.
Photo album: A photo album is a simple way of documenting the memories your church has created over the years. This album can be kept in the entryway or fellowship hall of the church for people to flip through, or an album created for a pastor who is celebrating an anniversary can be given for them to take home and enjoy.
Ornamental tree: The Bible mentions trees many times since they can serve as powerful metaphors of strength and longevity. Why not commemorate your church's or pastor's anniversary by planting an ornamental tree? A tree planted in your pastor's honor will remind them of the strong roots they have put down in your congregation and the beautiful legacy they have created.
Anniversary plaque: Crystal anniversary plaques are an excellent way to commemorate your church's or your pastor's anniversary milestone in style. A crystal plaque will be a beautiful tribute you can place anywhere — one that will continue to serve as a celebration of the time you've spent together and God's faithfulness to your church.
Gifts for a Pastor's Family
As you're coming up with gifts to give your pastor, don't forget about their family. Any pastor can tell you that their family makes important sacrifices to serve their congregation. Pastors' spouses often give up time with their spouse because they are needed by a member of the congregation. Pastors' families can also play an important role in teaching and encouraging people in the church. Whatever your pastor's family does to serve your church, they deserve to be appreciated just as much as your pastor is.
Gifts for a pastor's family should make them feel deeply appreciated and should honor them for the important role they play in the church. They may even serve to pamper them a bit. Here are a few ideas to consider:
Date night package: Any pastor's spouse would be blessed by the gift of a night out with their loved one. Provide tickets to a movie or play and a gift card to a nice restaurant in town. If the couple has young children, offer to babysit the kids while they go out, and encourage them to take their time. Your pastor and their spouse will greatly appreciate a gift that allows them to spend uninterrupted time together.
Vacation: Another idea for your pastor's family is to send them on a vacation. Everyone needs a getaway from time to time, including pastors and their families. You can purchase an all-inclusive vacation package or simply give them a gift certificate for a major hotel chain and let them plan the trip themselves. Either way, they will be grateful for the opportunity to lay their church responsibilities aside for a time to enjoy being together.
Self-care subscription box: If you're looking for gifts for a pastor's wife, consider a gift that will allow her to feel pampered. This could be a gift certificate for a manicure and pedicure or another spa treatment, or for a gift that keeps on giving, opt for a self-care subscription box. You can find subscription boxes that will deliver everything from personal care products and candles to jewelry and more.
Appreciation award: Pastors aren't the only ones who deserve an appreciation award. Their families do too, especially their spouses. Consider a beautiful crystal pastor's wife appreciation plaque or a plaque that includes a side-by-side design for thanking both your pastor and their spouse in a single award. These awards turn the behind-the-scenes service that your pastor's family do into a tangible thank you that will remind them how appreciated they truly are.
Beautiful Crystal Gifts From DIY Awards
Pastors give selflessly of their time and resources to serve the people in their congregations and their communities, so when a holiday or special occasion comes around that gives you a chance to express your gratitude, you should take full advantage of this opportunity. When you're not sure how to express your love and gratitude, remember that you can't go wrong with a beautiful, personalized award.
While a traditional wooden or metal plaque is likely to collect dust, a crystal plaque or monument from DIY Awards is a beautiful work of art that your pastor and their family can enjoy looking at for years to come. Browse through our selection of pastor gifts to find the perfect option for your pastor and add your own text for a custom gift that is as personal as it is beautiful.