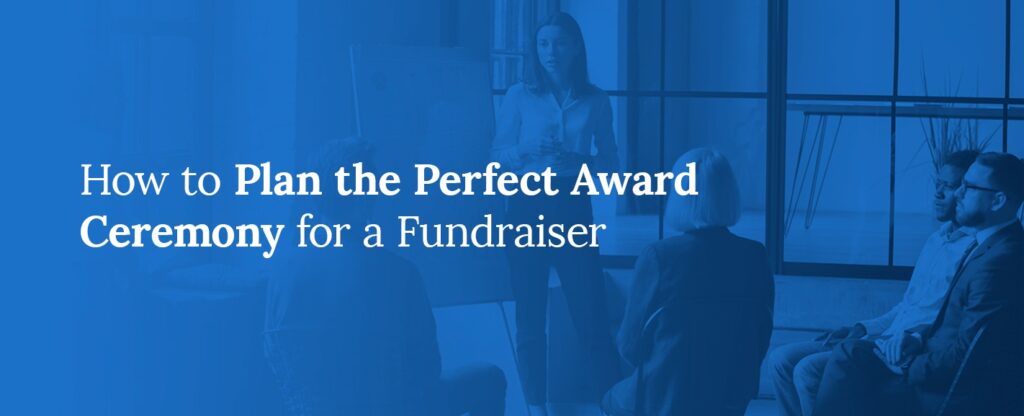 Fundraising asks a great deal of all participants — and to help celebrate a successful campaign, many organizations hold an awards ceremony. Organizing this type of event takes dedication and a keen eye for detail, but it can be the showpiece for your campaign and can even help you with future fundraising goals.
Personalized Achievement Awards Gift Plaques
Anyone who's hosted a fundraiser knows that it is no easy task. Loads of planning, logistical puzzles and marketing goals can make them stressful for the organizers. But your reward for all that hard work is a successful event that secures high-dollar donations for your organization. Fundraisers are a great space to host auctions, network through dinner and give awards to your most appreciated contributors.
Between volunteers who put in thousands of hours with you, donors who give thousands of dollars and the people who make other significant contributions, you may have quite a list of people who deserve recognition. So how do you create a ceremony with the gravity and excitement these people deserve? And what kind of awards do you give out? Planning an award ceremony for a fundraiser is an excellent way to show your donors how much you appreciate them. In this guide, we'll go over everything you need to know about how to plan a fundraiser with an awards ceremony, including award types and fundraising gift ideas.
The Benefits of Hosting an Awards Ceremony at a Fundraising Event
There are many advantages to holding an awards ceremony at your fundraiser. The most significant, of course, is rewarding the participants and donors for their contributions, efforts and donations. They've put a lot of work into helping you, so awards are an ideal way to acknowledge and thank them. Everyone loves to feel appreciated, and showing appreciation can also encourage your participants to take part in future campaigns. It creates a personal connection to your organization. They may be more likely to donate again in the future when you foster this relationship. Other benefits include the following.
Promoting your organization: Sometimes, award ceremonies can be smart promotional efforts. Local news outlets can offer free coverage if they discuss the event, and you can spread the word in the community with savvy social media posts. Your mileage may vary for these, depending on the event itself and the attendees. You can even send out press releases announcing the fundraiser and the award winners, which can generate buzz about your organization.
Developing your image: A ceremony can also help you with branding. If your organization has a reputation for being professional, a white-collar event lets you stay true to the brand while offering everyone on your team a new experience. If your organization is fun or eclectic, an unusual awards ceremony helps everyone have fun. In either case, you can emphasize your brand and help develop that aspect of your group. For newer organizations, this method can be especially useful in cultivating your image. Staying on-brand can also help you put your marketing message in front of others who might want to donate next year!
Generating material: Finally, awards give you lots of content. Take videos for social media, write up blog posts about the event and take photos to add to your organization's website. Whether you need social media content, blog ideas or ideas for next year's fundraiser brochure, your ceremony is an opportunity to gather stories, videos, pictures and ideas.
13 Steps to the Perfect Awards Ceremony for Your Fundraising Event
No perfect fundraiser comes together in a day. It will probably take more than a year to execute one. Creating an award ceremony for your fundraiser can be exciting, but takes careful planning. We've broken things down into 13 steps that will guide you through planning the perfect fundraiser.
1. Create a Timeline
The first step, and one that will help you with every subsequent one, is to make a schedule. A timeline will help everyone on the planning team stay organized. It will keep you on track for meeting specific deadlines and let you know where you are in the grand scheme of things. Your timeline will depend on the size of your organization and event, but as a general rule of thumb, aim to start planning about a year in advance.
At this time, you should:
Set the date.
Assemble your committee — see step two.
Start identifying the size and scope of the event, such as number of guests, themes and location ideas.
Establish a budget — see step three.
After making these plans, spend the next few months figuring out more prominent logistics, like your venue, speakers/presenters, sponsors and catering.
At the six-month mark, you should:
Develop your staff and find volunteers.
Get decorations.
Begin spreading the word via social media, press releases and news outlets.
Create your floor plan.
Rent equipment.
Hire a photographer or videographer.
Select food and drink.
Get an online registration system up and running, if you'll be using one.
As you reach three months before the event, you should:
Finalize vendor arrangements, rentals, decorations, special guests and deposits.
Design printed materials, such as brochures, banners and program booklets.
Design presentation materials, such as videos or slideshows.
Map out the schedule for the night.
Think about sending invitations at this time, depending on the size of the event.
One month before the event, you should finalize the schedule in as much detail as possible and arrange additional activities like games or auctions. You may want to confirm everything with your vendors, as well.
At two weeks before the event, you should:
Print out all of your materials, such as program booklets, menus and banners.
Deliver headcounts to your vendors and create your seating chart.
Review presentation materials, including scripted remarks.
Confirm volunteer schedules and duties.
As the event looms closer, spend the day before moving all your items to the venue and decorating as soon as they allow it. Many locations will let you set up the day before, or at least provide a place to store your decorations and items. On the day of, arrive early so you can greet and direct vendors. Get your volunteers and decor in place and make sure everything is ready to go.
Don't forget to include tasks for after the event on your timeline, such as writing thank-you notes, sending gifts and compiling paperwork for tax purposes.
2. Form a Committee
One of the first few steps to creating a substantial event like this is to make a committee. Ideally, your committee members should have large networks that will help you reach your goals. If they have a lot of friends, colleagues and associates who can help you out with your tasks, they can be valuable assets.
Someone with a friend at the news station could help you get an article written to raise awareness. If they know someone close to an esteemed celebrity or figure, they may be able to pull some strings and get them to speak at your event. With this kind of networking, you may be able to save some money — something every nonprofit aims to do.
Try to find a good mix of staff members and volunteers, and diversify the people in this group. You'll need people to help plan and people to work the actual event — preferably both. They should be reliable people who you know can pull through. Look for repeat donors or people who have volunteered in the past.
Start making this committee about a year in advance of your fundraiser, especially if it is your first time hosting this kind of event.
3. Analyze Your Budget
Another early task is identifying your budget and planning out your expenses. Consider the viability of your event and how much money you expect to make from it. Think about costs and possible earnings. Fundraiser consultants can assist here, but many organizations can make do without their help, especially if they've been doing events for a while.
Determine the costs of the fundraiser and how likely it is to be successful. Think about significant expenses, like the venue, catering and entertainment. Some large-scale events might include costs for transportation and security.
Moving onto the smaller expenses, you'll have to consider everything from the decorations to the cost of printing invitations. Stay on alert for any hidden fees, especially those from venues or entertainment companies. Alternatively, watch for any areas where you might be able to get a donation out of the deal. For example, if the venue also provides in-house catering, you can see if they'd be willing to donate all or part of the service.
Remember that certain types of events will be much more expensive than others. For instance, celebrity guests will significantly cut into your profits. They typically charge a lot just to show up and could generate more costs through transportation, lodging and other demands. A more cost-effective option is to get a local leader or community figure involved.
Another way to reduce costs is to use volunteers where possible. Also consider where most of your money will be coming in. Many charity events make a lot of money from ticket entry, but if you expect more from incentivized donations or raffles, focus on that.
Since we're talking about a fundraiser with an awards ceremony, remember to budget enough money for quality awards. You're going to be using these awards to show your thanks to the donors and sponsors who make the event and your continued work possible, so you want well-crafted awards that convey your appreciation appropriately. Don't forget to factor this cost into your budget.
4. Establish Award Categories
While the Oscars get to use traditional awards like Best Director and Best Leading Actress, you get the challenging task of coming up with unique categories for your organization. They should show appreciation to the people who make your work possible. Without them, you wouldn't be where you are.
Some ideas for possible award categories are as follows.
Top donor:Award the person who has made the largest donation. You can also have a separate award for someone who has donated multiple times over the years. Gifts for top donors help retain those generous contributions. It also gives potential donors an idea of what donation goals they should meet, thus encouraging them to give more in the future.
Campaign VIP: Reward a member of your team or multiple employees who played a central role in making the campaign a success. That recognition could encourage those members and others to participate in future campaigns.
Named awards: You can name an award after a top donor from past years or someone who has made multiple contributions. Each year, you can award this to a new donor. Having an award named after you is among the coveted honors for nonprofit supporters, and it's sure to encourage individuals to donate in the future.
Leadership awards: If someone on your leadership team made a significant contribution to the campaign, you could recognize them with a leadership award. A leadership award demonstrates your values and shows the public what sorts of leaders you have on your team.
Board of directors: Recognize the guidance of your directors and executives throughout the organization process. Board of directors awards introduce your executives and directors to contributors and the public.
People's choice: Depending on the type of event you're running, you may want to have a people's choice award, where guests can vote on their pick. It's a fun bit of interaction that also helps keep them there in suspense, as they'll want to find out the winner. Have categories for community service, most active volunteer, best problem-solver or others that suit your company and the event.
You'll also need to designate your judges. Will the committee be doing the judging? Will it be a well-respected member of the community or an expert in the field? Make sure your judges won't have any bias in their findings and can meet clear criteria for selecting a winner.
Awards are an excellent approach to showing your thanks in a tangible, respected way. Sometimes words aren't enough, and giving out a select few awards in prestigious categories can help solidify your gratitude and encourage more contributions from the recipient in the future.
With the awards for fundraisers in mind, you'll also want to think about when to present them. Giving out awards too soon or late in the evening could mean your attendees leave early. Consider how long the gathering is and its intention.
If an awards ceremony is the sole purpose of your event, present awards for fundraisers soon. You wouldn't want guests sitting around waiting, especially if there isn't much else happening. If you have other activities planned, like an auction or a meal, save the awards presentation until the end. That'll encourage guests to stick around for the ceremony, allowing you to pitch to potential donors throughout the evening.
5. Create a Schedule
You may have your overarching timeline planned out, but your day-of schedule is just as critical. Plan every little detail as much as possible. Your program should include cues for when to move guests or when to start lining people up backstage. It needs to help you and other event organizers know what happens when, so the event runs smoothly.
Include things like time left for meals, introductions and speeches and time allotted for guests to move to another room. Your schedule might look something like this.
6 p.m. check-in: Guests arrive at the venue and collect their name tags and drink tickets.
6-7 p.m. happy hour: Guests mingle, grab drinks and participate in fundraising games or booths.
6:55/7 p.m. dinner: Announce to the guests that dinner will start shortly and they should return to their tables at 6:55 p.m. The waitstaff will start serving entrees at 7 p.m.
7:30 p.m. program: Aim to start delivering remarks after dinner, but before dessert. The lineup for speeches and presentations might include remarks from the program director, president of the organization and the keynote speaker before moving on to the awards.
9 p.m. to closing: Guests can continue to mingle and enjoy themselves on the dance floor until close at 11 p.m.
11 p.m. cleanup: Volunteers and staff clean the venue and pack up.
It may help to share this schedule with your guests as well, so they have a rough idea of how the night will go. Of course, it doesn't need to be as detailed. You could offer something as simple as "Doors open at 6 p.m. Dinner starts at 7 p.m., with program and awards at 7:30 p.m."
6. Choose a Location and Book It in Advance
Your venue is a big decision, so spend some time on this one. Try to choose and book it as soon as possible. Your venue should have the following qualities.
Reflect your organization: If your organization prides itself on a classy, professional tone, don't host your event in a barn with a rustic theme. Consider the nature of an awards show, too. They tend to be on the glamorous side, so a beautiful venue with a large stage can help reinforce this idea and make them feel more prestigious.
Work within your budget: As much as you might want to have an extravagant feel for the night, don't spend more than you can afford. The venue is one of the most substantial expenses, after all.
Offer enough room for your plans: If you are serving dinner, you'll need a venue with tables and chairs. Of course, a stage is also necessary for the award ceremony, but sometimes you can get by with a temporary one. You'll also want to consider the space that any additional areas will take up, like games, an auction or check-in booths.
If you're using a theme in your event, the venue can help bring it to life. Imagine a glamorous Hollywood-themed fundraiser held in a historic movie theater or a masquerade party held in a big ballroom. Another type of place to consider is one that celebrates the novelty of the location. An event in a park, museum, barn, aquarium or library is a memorable way to get your guests in the spirit. They work exceptionally well with specific themes, such as a Roaring '20s Gatsby party in a library or an "Under the Sea" theme at an aquarium.
The venue is another area where you may be able to save money by finding organizations willing to donate the space. Ask about this as far in advance as possible and use any contacts you may have. Consider targeting new or small venues that might want the publicity from an event like this.
7. Craft a Food and Drink Menu
Catering is another significant expense you'll want to spend some time on. A full dining experience will cost a little more, but adds elegance to the event. Think about the scope of your night and how big you plan on going. The number of guests will also determine how expensive this option can be. If a beautiful banquet is outside of your reach, a buffet can work well, too, and offers a variety of options.
If your event is smaller, both options might seem like overkill, but you'll still want to provide some kind of food or drink. A small snack bar can give that to your guests. Offer traditional party snacks like cookies and hors d'oeuvres. A separate bar works well in all of these options.
If your event has a theme, try to make the snacks match. Let's go back to the vintage Hollywood theme. You can offer fresh-popped popcorn in red-and-white striped cups, vibrant gummy bears and big soft pretzels. This kind of themed snack bar takes a little creativity, but can add some character to small events. Even if your catering isn't themed, try to make it fit the tone of the night. Again, shoot for something more elegant if you're throwing a classy black-tie fundraiser.
Remember to check with your venue and see if they have any limitations regarding catering. Some sites require you to use their in-house catering, which might influence your decision to go with them. Alternatively, use your connections and see if you can find a caterer who would be willing to donate their services for the night.
8. Explore Your Award Options
Not all of your recipients should get the same kind of award. While you want to thank everyone who attends, your most significant donors and helpers rightfully deserve a little something special for all of their contributions. Different awards or gifts are more appropriate for some participants than others. Here are a few gift ideas for top donors and attendees.
Crystal awards and plaques: These pieces should go to your most prized donors and VIP award winners. Crystal awards are elegant and well-made, and you can customize the messages engraved onto them, so your recipient gets a personalized expression of your gratitude. They can confidently and proudly display it in their office or home. Such a gesture might make them more likely to donate in the future, as well.
Trophies: Trophies are classic and come in a wide variety of shapes and designs. Don't skimp on cost and end up with low-quality trophies made of lightweight plastic. If you use these fundraising gift ideas, be sure to get ones that are sturdy and look professional.
Gift cards: Provide gift card awards for raffles, games or particular accomplishments. Gift cards are particularly smart fundraising gift ideas for volunteers to recognize and thank them for their help.
Gift baskets: Baskets are a great prize for raffles. See if you can get local businesses to chip in with prizes. A local bakery can stuff one with sweets, or a well-known restaurant can give out some merchandise and gift cards, for example.
Prize table: You could also set up a variety of prizes on a table and let winners or those who donate specific amounts choose one for themselves. Wrap the gifts for surprise fundraising gift ideas or leave them unwrapped and arrange them so attendees can pick what they want.
More casual events can run a variety of games for guests to win prizes. Think guessing games like "How many jelly beans are in the jar?" or spinning a prize wheel. You could make a Plinko board or throw darts to win gift cards. If you've got a theme, get creative and come up with all sorts of fun games for your attendees to play.
Another aspect to consider is how you'll announce winners at the award ceremony. Do you want to play music as they take the stage? How about a change in lighting? If you select a complex setup, sort out your technology needs well in advance.
9. Select the Host and Speakers
Your speakers and host will be the main draw of the event, so name recognition is essential. You don't need to spend your entire budget on a high-profile speaker, but you should find someone who knows how to talk to a crowd. Make sure your host or emcee is comfortable in front of people and experienced with public speaking. A good speaker will make your event flow and keep the audience invested. This person holds the whole show together, so be confident in your choice.
Your award givers should be well-respected and have a good reason to be introducing the award. People high up in the organization or experts in the field can do this, along with previous winners, if your event is annual. You could also invite someone who has benefited from the work of your organization or the award recipient.
Remember that celebrity guests can be costly and may have extensive demands. You could ask a well-loved local figure instead. They can keep costs down, might have a more meaningful attachment to the event and could bring more guests through their connections. Ensure that whoever you select to speak knows the tone of your event, whether it be on the more lighthearted side or a serious, elegant evening.
One more person you'll want to think about hiring is a musician. Local artists help you support the community and your wallet. You could also hire a DJ if you want to stick to well-known or prerecorded music.
10. Generate Interest in the Event
If you want a full house, you'll have to start spreading the word. There are plenty of ways to do this.
Posting on social media: Promote the event on all your social media platforms — something your nonprofit should have — and encourage people, including your volunteers and staff, to share them. Create an event page where guests can mark themselves as "going" and get more detailed information about it.
Making a press release: Announce your event with a press release and send it out to news outlets.
Get on the news: If the press release isn't enough to get you in the paper or you want more publicity leading up to the event, try using your connections or asking for a news spot. Personally let them know about the fundraiser, and they may cover it.
Send out paper invites: If it's in your budget and you think it fits the event, send invitations to organization members.
Write blog posts: Promote your event on your website with blog posts discussing what you're working on and the purpose of the fundraiser.
Put up signs or banners:Make flyers or banners and find places around town willing to display them for you. These prints can be a little more costly — free advertising is obviously preferable — but may put your event in front of a lot of eyes.
Generating interest in your event increases your chances of getting sponsors. They may want to chip in if they know they can reach more people and get more advertising out of the deal. Sometimes you'll get sponsors willing to contribute to the overall cost of the event, while others will help out with in-kind donations, like catering or the awards. Make sure you treat your sponsors well and offer lots of recognition for their help. For example, if they help offset the cost of drinks, you can put their logo next to the bar and include them in your program book.
Make sure that during your advertising phase, you talk about activities within your fundraiser, such as the awards ceremony, dinner and auction. These events can increase interest since people will come to see them.
Don't forget to use the event for publicity after the fact! Keep the spirit rolling with social media and blog posts about it.
11. Capture the Moment
Depending on the size of your event, you may want to hire a professional to record the night in all its glory. A photographer can help you capture all the little moments with an artistic eye. Another option is a videographer, who can catch it all in motion but may be more expensive. Both are great choices and can offer you different results.
Photography will give you more versatile images that you can use across social media, in publications, on your website and anywhere else you may want a static picture. Video is useful for memorably portraying the event, but won't work for printed materials. It would, however, be helpful within presentations and informational videos, so you can show donors what you're all about in a more emotional medium. If you regularly create video content, see if you can get raw footage from the videographer. Then, you can use that footage in your content, such as a montage of your work.
If your event is on the smaller side of things, a professional photographer might be out of reach, but you can always assign someone with a camera or smartphone and an eye for photos to do the job. Usually, you can find a budding photographer to volunteer for this task. Sometimes, professional photographers or videographers will be willing to work with you for free to support the cause.
The fruits of a photographer or videographer's labor can help your organization in a variety of ways.
PR boosts: Use the photos or videos to give your organization an image boost. Sharing them on social media and getting them in the news can help you spread the word about your cause.
Branding: Assuming the event fits the image you want to portray, you can use the photos on your website and on printed materials to further that image and help develop your brand identity.
Reflections: Many organizations will put together newsletters and year-in-review publications. These images can help you show off the success of the event and remember it for years to come.
Since some people don't take kindly to unexpected photographs, it may be wise to put a sign near the entrance stating that you will be taking pictures for the organization's use.
12. Acknowledge and Thank All Sponsors and Volunteers
While the awards themselves are a strong form of thanks, you also want to show your volunteers and all donors, with big or small contributions, how much you value their support. Start with the easy stuff, like thanking them in your speech and including a note in your program thanking everyone who donated their time or money and attended.
You can also send them home with favors or send gifts to some of them. For instance, you can send a small gift to all of your volunteers and donors who met a specific contribution amount. Consider flowers, a fruit basket or a tote bag, water bottle or journal with your logo or mission statement on it. Don't forget about your sponsors, either. Send them something nice to show your thanks and maybe even give them a call.
Whatever you gift to your sponsors, volunteers and attendees, include a business card or get the items customized. Your name or branding on these items will keep your company in attendees' minds in the future.
If sending these gifts after your ceremony isn't possible, gift them during the event. Place small boxes of candies or snacks at every seat or offer other branded, useful items. You'll save on shipping costs, but still give the thanks your attendees deserve.
After the event, send your attendees thank-you notes. If you can, make them handwritten. Some organizations throw small parties for volunteers and everyone who helped.
This acknowledgment and thanks stage is significant in giving people a positive association with your organization and encouraging future support. You can make their experience more personal and cultivate stronger relationships with your attendees. It's also a good time to reinforce your message. Consider following up with attendees to tell them how much money the event raised and how the organization plans to use it. If you used a photographer or videographer, send guests photos or send your award recipients a highlights reel, so they can see their acceptance for years to come.
13. Kick Everything Into Gear
Once you have finished planning and set the wheels turning, you get to sit back and enjoy the experience. Of course, you'll still need to be on alert for any issues that pop up throughout the event, so be ready. Make sure you have people available to help you address last-minute problems.
Don't expect the night to go off without a hitch, as little snags still occur on perfectly planned occasions. Use your volunteers effectively and keep them on task. Staff members can handle more critical jobs, while your volunteers can take on more straightforward tasks like checking people in and selling raffle tickets.
For the most part, if everything is going smoothly and you have reliable staff to help, you can spend the event mingling and persuading your guests to donate. Try to get people participating in games or auctions and enjoying the refreshments. Spotlight your award recipients during the ceremony and sincerely express your gratitude to everyone attending.
Get Quality Awards for Your Fundraiser From DIY Awards
Following these 13 steps can help you throw an excellent award ceremony for your fundraiser. You can show your top donors how much they mean to you and keep the contributions going in the future. We mentioned how essential it is to give out high-quality awards and how this can add to the significance of the whole event. If you want to give your top donors a gift that truly shows your gratitude, look no further than DIY Awards.
We make our awards of durable optical crystal, so they'll feel weighty and meaningful in your hands. They're also 100% customizable with deep-etched engraving, so you can personalize each one to your award recipients without any extra fees. We offer fast turnarounds and can help you find the perfect piece for your next fundraiser award ceremony. Contact us online or reach out to a representative today at 800-810-1216 to learn more.
The Benefits of an Awards Ceremony at a Fundraising Event
There are many advantages to an awards ceremony. The biggest, of course, is rewarding the participants and donors for their contributions, efforts and donations. Everyone loves to feel appreciated, and showing appreciation can also encourage your participants to take part in future campaigns.
Sometimes, award ceremonies can be smart promotional efforts. These events can be covered by local media or on social media, depending on the event itself and the attendees. You can even send out press releases announcing the event itself and the winners, which can generate buzz about your organization.
A ceremony can also help you with branding. If your organization is known as being professional, a white-collar event lets you stay true to brand while offering everyone on your team a new experience. If your organization is fun or eclectic, an unusual awards ceremony helps everyone have fun. In either case, staying on brand can help you put your marketing message in front of others who might want to donate next year!
Finally, awards give you lots of material and content. Whether you need social media content, videos, blog ideas or ideas for next year's fundraiser brochure, your ceremony is an opportunity to gather stories, videos, pictures and ideas.
Award Categories for Fundraisers
To have an awards ceremony, you need awards. The Oscars may give recognition for Best Leading Actress or Best Director, but what will your awards be for? There are a few options:
Top donor: You can award the donor who has made the largest donations. You can also have a separate award for someone who has donated multiple times over the years.
Campaign VIP: You can reward a member of your team or multiple employees who played a central role in making the campaign a success.
Named awards: You can name an award after a top donor from past years or someone who has made multiple contributions. Each year, you can award this to a new donor.
Leadership awards: If someone on your leadership team made a significant contribution to the campaign, you can recognize them.
Award Ideas
Wondering what to give out? A crystal award or custom award is your only choice for VIP awards where you want recipients to feel completely recognized in a red-carpet way. In addition to a crystal award, you might want to include gift cards or gift baskets. Another option is to have a table piled high with gifts and have each recipient choose their own gift.
If you want a beautiful award you'd be proud to hand over in the spotlight at a ceremony, contact DIY Awards to learn how you can create customized, high-quality awards just for your ceremony.