Keeping office morale high, staffers motivated, and innovation flowing is one important reason to emphasize employee recognition. Coming up with effective employee award ideas may seem daunting, just brainstorming might make you feel overwhelmed. But figuring out a way to honor the members of your team who have been there the longest, strive the hardest and set goals at the highest level is vitally important to the health of your operation. Another reason employee awards are so central to success? They convey very real appreciation for people you rely upon.
Personalized Achievement Awards Gift Plaques
Jump to What You Are Looking For: 
Award Ideas for -
But how do you decide exactly who to recognize, and how? What are the metrics to evaluate employee performance? After all, it's your employees who are the pulse of your business. Honoring their contributions is not only a way to instill positivity in the workplace, but it's also a business best practice. It allows team members to feel valued and appreciated — not just as worker bees. Award ideas for work vary, but there are tons of options no matter whom you want to honor.
For example, you might want to recognize your entire workplace with company recognition awards. You might need some leadership award ideas for that recently promoted manager excelling at their role, or even specific employee recognition award ideas. No matter what you're looking for, we've got you covered. We'll walk through tons of employee appreciation award ideas that can help you show team members how much you value their hard work.
Inspire your employees (and reap the business benefits) with these epic workplace award ideas that recognize achievements and catalyze tomorrow's hard work.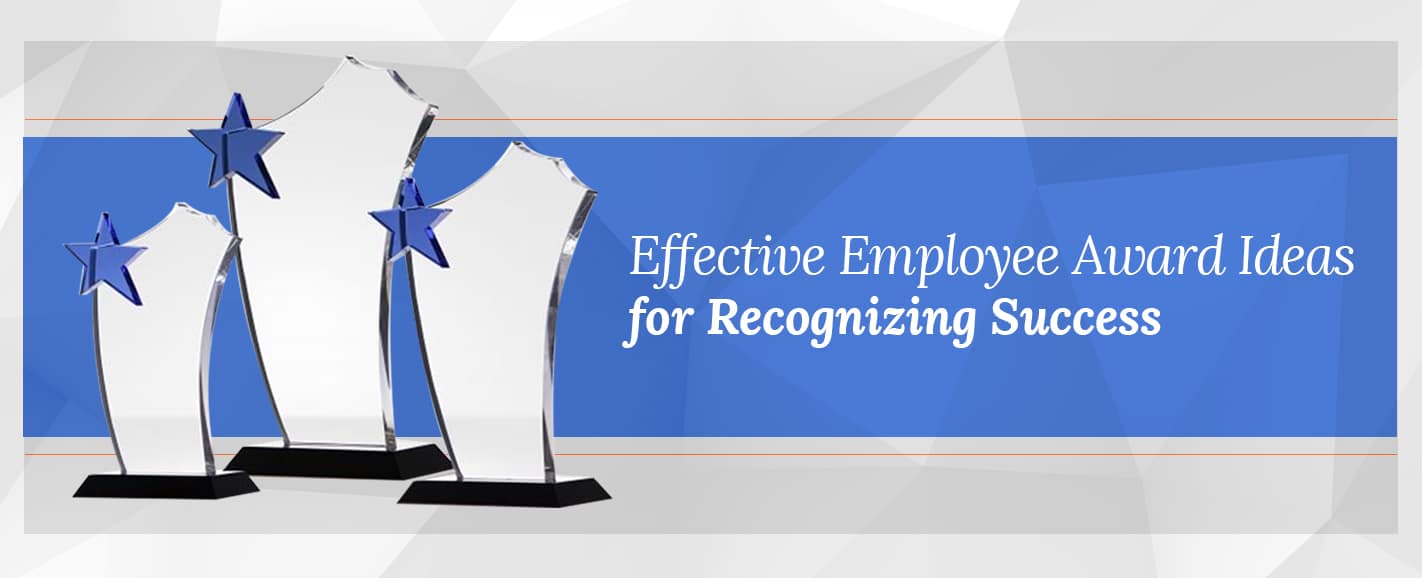 We'll get you started with a list of employee award categories, their relevant criteria and some creative award names:
Award Ideas for Employee Accomplishments
Individual and team awards recognize the milestones and goals employees reached over a certain period of time.
Workplace employee awards may seem intuitive, yet fewer than half of employees know if their organization maintains them. What's more, nearly 79 percent of employees surveyed felt undervalued by their employers and less incentivized to perform at their peak because of it.
Award ideas for employee recognition provide the foundation for an organization committed to an energetic, optimistic and innovative workplace. Today, companies honor their employees' growth and accomplishments in many award categories:
Workplace competition winners
Exemplary leadership
Customer service icons
Top performance achievers
All-star sales
Workplace safety circles
Inspiring innovators
Team titan peer-to-peer awards
Closers are employees who close the most deals within a certain time frame — be that a week, quarter or the entire year.
Top Performer Award Criteria: This employee recognition award is as straightforward as it gets; it's to be bestowed on the top performer at your organization. Measurable criteria should be taken into consideration. For example, the top salesperson is your division or the attorney who has billed the most hours that year would be good candidates for the Top Performer employee recognition award.
Top Performer Award Names:

Silver, Gold or Platinum Closer Tiers
The Dealmaker
MVP Award
Chief Closer Award Criteria: For those hotshots that just can't stop signing deals with new clients or upping the orders for returning customers, the This sales achievement award is the way to go. This employee award can be given to an individual or small team within a larger organization, as long as sales milestones have been met and records shattered.
Sales Achievement Award Names:

Top Producer of the Year Award
President's Club/Circle Award
Highest Sales Growth Award
Award ideas for sales or deal closers include:
Travel credits: Many hospitality brands offer gift vouchers you can purchase and send to others. From traditional hotels and Airbnbs, airline flight points, Uber and Lyft ride credits to sending one lucky employee on a dream trip, travel credits make a motivating and memorable gift.
Personalized top sales award trophy: Sales and closer trophies are personalized mementos commemorating the rare talent closers possess.
Private chef: Hire a private chef to cater a gourmet meal for outstanding personnel within the organization, either on or offsite.
Work from home: Work-from-home policies are growing in popularity. Organizations can award additional work from home days to high-achieving personnel, letting recipients pick the days they'll use them.
Elevated title: Employees can even be awarded elevated job titles, ones they get a say in crafting and which science proves helps fuel engagement and motivation.
Award Ideas for Employees Who "Put in the Time"
Few endeavors match what it means to dedicate years of your professional life to an organization. In some cases, employees commit to an organization up until retirement, contributing a significant portion of their work lives to one company's mission, values and success.
These years of service and retirement awards are a different type of honor for employees, but an essential one. Organizations with these commemorative celebrations show character and commitment of their own, returning the favor to those who served them for so long.
Show your appreciation for this special class of employee with these lifetime achievement award categories:
Length of Service Award Criteria: The perfect way to honor employee loyalty or someone on the edge of retirement, the Length of Service award is an ideal way to recognize long term employment. Show the employees who devote real time to a company that their service matters. Employees are normally eligible for the Length of Service awards at 5, 10, 15, 20, 25, 30, 35, 40, 45 and 50 years of service.
Length of Service Award Names:
Hall of Fame Award Criteria: This is another great award for a retirement. If you have a small company, honor those that are moving on with a Hall of Fame award. Criteria could include those that are with the company for more than a certain number of years. If the retiree has hit that anniversary, they are in the "Hall of Fame".
Possible Award Names:

President's Circle
Standing Ovation
Diamond Club
Leaving a Legacy
Exiting in Excellence
Retirement and years of service are best recognized through commemorative tokens — physical or experiential presents the recipient can keep and use over time. There are many examples of these commemorative gifts for retiring or long-term employee service:
Themed party: Tailor a going-away themed party to the individual based on their favorite movie, tv show, band, vacation spot or something similar. Use that party as the place to honor and recognize the employee's life-long accomplishments. Have the whole team pitch in as a collective effort, making the occasion a truly collaborative and commemorative effort.
Gourmet dining experience: Reward years of service with a night out at a premier restaurant in your area.
Travel credits: Many of today's top companies in the hospitality industry offer vouchers that can be gifted to others. From traditional hotels and Airbnbs to airline flight points, Uber and Lyft credits and much more, helping pay for a retiree or employee's dream trip is a unique and memorable gift.
Paid memberships: Let recognized employees pick a membership service of their choosing while you take care of the bill. Paid memberships work for gyms, meal boxes, streaming platforms such as Netflix and Audible, magazine subscriptions, even cell phone bills for the remainder of the year.
Years of service plaques: Employee years of service plaques give a formal, physical token to those with five, ten, 20, even 30 years serving a company. Plus, plaque designs, details and wording can be customized according to the recipient, making each piece awarded distinct.
Award Ideas for Managers & Leaders
Even those that are commonly handing out the awards need a little recognition as well. Recognize those that lead the team with a special dedication.
Leadership Award Criteria: For the just-promoted supervisor, the coordinator who keeps everything running on all cylinders, or that new hire with incredible potential, the Leadership award is a perfect choice. Leadership is one of those rare gifts that shouldn't be overlooked. It's what keeps a workplace thriving and growing; so don't forget to consider this all-important metric!
Leadership Award Names:

Leadership Achievement Award
Excellence in Leadership Award
Pinnacle Award Criteria: True leaders are those who frequently inspire others while paving the way for organizational innovation. Recognize the leader that has put the time in and shows their dedication to the team on a daily basis. They are the pinnacle of guidance and direction.
You know a good leader when you see one. Yet, more importantly, good leadership should be rewarded when it's seen, using any of these titles and categories:
Leaderboard Award
Company/Department MVP
The Expert Initiator
Spotlight of Service
Pair your leadership award winners with any of the following workplace gifts and recognitions:
PTO: Any employee who goes above and beyond in their role — and makes positive workplace ripples in doing so — can be rewarded with an extra day of PTO.
Day passes: Exemplary leaders get the liberty to take the rest of the workday off whenever they choose, no questions asked (so long as they don't have an important presentation later).
Bring-your-pet-to-work day: If your industry/building allows, award an org-wide leader the chance to bring their pet into work for a day — or even up to a week.
Paid private lessons: Gift key leaders private lessons to hobbies fitting their interests and your organizational culture (e.g., golf, tennis, public speaking, improv, etc.)
Other Award Ideas
Customer Service Award Criteria: Sometimes a thankless job, customer service is perhaps the most important skill an employee can possess. The link between customer and company can make or break a corporation's reputation. Take customer comment cards and survey rankings into consideration when deciding who to honor with a Customer Service award.
Customer Service Award Names:

Star Service Award
Customer Service Manager of the Year Award
Outstanding Customer Service Award
Customer Service Rising Star Award
Customer Service Icon
Award Criteria: Customer service "icons" are employees who embody putting the customer first.
It's not always easy, and customer service can sometimes feel like thankless work. Use materials like customer satisfaction surveys, customer reviews and customer interaction recordings to determine who in your organization goes above and beyond representing your brand in the best light.
Customer service award titles can come in many forms:
Silver, Gold and Platinum Customer Service Tiers
The Joy Sparker
The Fire Extinguisher
The "Yes-We-Can" Person
Award those employees who practice the highest quality customer service with any of the following:
Office massage: Bring a professional massage therapist into the office, pampering members of the customer service team.
Catered breakfast or lunch (or brunch): A favorite restaurant delivered to their desk is a great thank you to employees after a particularly challenging customer service experience they handled with aplomb.
Engraved emblem: Personalized emblems show your company's gratitude toward the work and achievements of your employees and can be displayed wherever the recipient chooses.
Dream workstation: Winners get a stipend to spend on upgrading their workstation, purchasing amenities like a standing desk, a comfortable new chair or decorations for a homier overall touch.
The Team Titan
Award Criteria: Peer-to-peer recognition programs will look different depending on the organization sponsoring them. Most often, staff recognition awards are set up by management but used and sustained by everyone.
However, peer awards offer one of the most surprising yet powerful categories of company awards. Consider any of these employee award titles for your peer recognition program:
Other Award Names for Peer Recognition Awards -

Colleague of the Year Award
Project Props Award
Partner of the Year Award
Team MVP Award
Employee High Fives
Coworker "Caught" in Action
Awards ideas for winners of peer-to-peer recognition include:
Scratch-off tickets: Let managers allocate a small stipend in their budgets to purchase scratch-off and other lottery tickets. At the end of the quarter, employees who received colleague shout-outs get a handful — and cross their fingers for a winning ticket.
Video tributes: Create videos of your employees praising or admiring their fellow teammates, or managers reading notes submitted by employees doing the same. At the next department meeting, play this video tribute to kick off the gathering on a positive note.
One-on-one mentoring: Employees frequently recognized by others' for their contributions can be awarded one-on-one mentoring or focused skills development sessions. This is particularly useful when included as part of a Rookie of the Year Award for first-year employees or interns.
LinkedIn recommendations: Recognized employees can also be the recipient of formal LinkedIn recommendations, with their colleagues and managers writing glowing reviews to leverage on their profiles.
Partnership Award
Partnership Award Criteria: Companies rely on so many links to build a safe and sturdy chain, and partnerships are a major part of that. Parent companies work with retailers, advertisers, suppliers, and distributors. Partnership awards should be reflective of those hardworking partners who have shown strong commitment in building a strong relationship with the company.
Partnership Award Names:

Partner of the Year Award
Vendor of the Year Award
Supplier of the Year Award
Safety Circle of Excellence
Safety Award Criteria: Safety awards acknowledge those dedicated to accident-free workplaces, plus those whose management swiftly addresses mishaps and emergencies if they do strike. For teams and warehouses with zero workplace accidents, individual employees with perfect safety records, drivers without accidents and more, corporate Safety awards send a message that this achievement matters. For single employees or small groups, consider a Safety award to reinforce the importance of following protocol and running a cohesive operation.
Safety Award Names:

Safety Leadership Award
Safe Driver Award
Years of Safety Award
Possible award ideas to commend safety-upholding employees include:
Tickets: Gift tickets to local sports matches, concerts, theaters, museums and more as a different type of award for employees' safety accomplishments.
Fun outing: Team outings give employees a unique shared experience. Look into local group events like cooking classes, painting nights, escape rooms, brewery tours and more.
Safety Wall of Fame: Set up a recognition wall where employees post handwritten messages about their colleagues. This employee recognition wall doubles as an announcement board, plus serves as great material for company social media posts.
Wine/food tastings: Book a private wine tasting or similar foodie event for your business' top safety award recipient and a group of their choice.
Show Thanks and Appreciation for Those Who Mean the Most to Your Business
You appreciate it when others notice your impact and go out of their way to recognize it. Do the same with incentives and awards for employees at your organization, all with custom-designed plaques and trophies from DIY Awards.
Hopefully, these guidelines will help you create effective employee awards within your workplace. Employee award ideas can make an organization more contemplative, and encourage staffers to do their very best work each day of their tenure.
Explore our extensive catalog of corporate awards and staff recognition materials, then begin your personalized design process online.