Retirement Plaque Quotes, Quips, Wordings & Sayings
Plan the retirement celebration with a personalized retirement plaque. A collection of retirement quotes and wishes that you may write to the retiree expressing your feelings at that special moment. Send happy retirement wishes with a personal touch.
"Twenty years from now you will be more disappointed by the things you didn't do than by the ones you did do. So throw off the bowlines. Sail away from the safe harbor. Catch the trade winds in your sails. Explore. Dream. Discover." ~ Mark Twain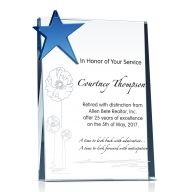 "A time to look back" Retirement Quote
In Honor of Your Service

To a Special Friend & Colleague

Retired with distinction from
Allen Bete Realtor, Inc.
after 25 years of excellence
on the 5th of May, 2017.

A time to look back with admiration...
A time to look forward with anticipation.
"You can finally enjoy the view" Retirement Quote
16 Years of Excellence

Presented to a Special Colleague

In sincere gratitude for the
compassion, guidance,
and outstanding leadership
you've provided to all of us
over the last 16 years.
"After climbing the Mountain,
You can finally Enjoy the View."
For that devoted employee, he/she deserves a special retirement ceremony and a special retirement plaque to recognize all his/her contributions to the company and wish him/her best for all the joy a happy retirement brings.
Employee Retirement Wording with Bible Verse & Prayers
Happy Retirement!

To a Special Friend and Colleague

Your retirement leaves a great big gap
In all our lives and hearts,
A workplace is never quite the same
When someone like you departs.
"For I know the plans I have for you,"
declares the LORD, "plans to prosper you
and not to harm you, plans to give you
hope and a future."  - Jeremiah 29:11
May our Savior bless you with good
health and enrich your retirement life
with happiness and pride in your
future endeavors.
Thank you for 30 years of valued service
For your retiring employee with particular religious belief, this timeless retirement plaque with a bible verse from Jeremiah makes a sentimental retirement gift.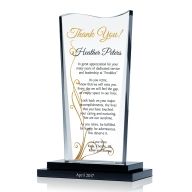 Best Wishes to Retiring Colleagues
Thank You!

Presented to a dear Friend & Colleague

In great appreciation for your
many years of dedicated service
and leadership at "Freddies"

As you retire, know that we will miss you.
Every day we will feel the gap,
an empty space in our lives.

Look back on your major accomplishments,
the lives that you have touched,
your caring and nurturing.
You are our sunshine.

As you retire,
be fulfilled, be happy,
be adventurous. You deserve it.
A personalized retirement gift to wish your colleague at work happy retirement and let him or her know how much they will be missed
Smooth Sailing Retirement Wording
Honor a Special Coworker

In Recognition For Many Years Of
Outstanding Service to AT&T.

Your commitment will truly be missed!
Your shoes will not be filled very easily.
Your shining spirit will never be matched.

We wish you smooth sailing on your new
adventure with much respect and gratitude.

Your retirement is truly deserved
with a job well done.

Aloha our friend.

Congratulations On Your Retirement!
The unique Sailboat Retirement Award design symbolizes the beginning of a new journey of the retiree's life. Wish your retiring employee a peaceful and joyous journey.
Military Farewell Message and Wording
Presented to a Special Military Police

For a man of principles that truly lived the Army Values.
Your selfless service has made a difference in the lives of many.
We will never forget your personal courage to do what's right.
Thank you for your loyal and honorable service to your Country!

NTC MILITARY POLICE COMPANY

You will always be remembered for
your hard work and dedication to your fellow
Soldiers. This plaque represents your loyalty
and meritorious service while assigned to the
Fort Duncan Military Company.
We wish you the best in your future endeavors,
you will be greatly missed. - 1st Squad

"PROTECT THE FORCE"
Engrave your personalized military farewell message on this beautiful crystal military retirement plaque to show gratitude to those who have served our country
"Life Begins at Retirement" Retirement Quote and Wording Ideas
Life Begins at Retirement

Honoring a Coworker

Words cannot properly express 
our gratitude for your contributions
and the wisdom you brought to our daily lives.

Have fun. Enjoy the years that lie ahead.
Open your arms to all the delight -
of flowers and music, every lovely thing.

Be brave. Be curious.
Discover a wider world.
A heartwarming retirement message to congratulate and recognize your friend & coworker on their retirement
Retirement Congratulations Wording Ideas
Honoring

A Special Friend and Colleague

All good things come to an end.
So is true for the marvelous and memorable
contributions you made to the company.
Wishing you a triumphant, delightful
and wonderful retired life ahead!

Give Without Remembering and
Take Without Forgetting.

Congratulations On Your Retirement!
A valuable employee and a dear colleague is getting ready to retire? Wish them well and send them an unique personalized retirement gifts with special retirement congratulations Quote
"It is also a new beginning" Retirement Best Wishes Message
Best Wishes & Congratulations
In Honor of a special Co-worker

You have been not only a co-worker,
but a friend to many.

Through your hard work and dedication,
you will be remembered as one of the greats.

You will be missed, but we wish nothing but
the best for you on your new adventure.

It may be an ending, a closing,
but it's also a new beginning.
Retirement is a milestone that signifies the peak of a rewarding career and the beginning of a new chapter. This Pinnacle Retirement Plaque offers a great way to wish that special colleague all the best for a new beginning.
Happy Retirement Wishes for Coworker or Employee
Thank You!

Presented to an outstanding colleague

Congratulations on your well deserved retirement
after many years of outstanding service!

In sincere gratitude for the assistance, guidance,
and outstanding leadership you've provided
to Microsoft for so many years.

You have set an example to be followed in the future
and cherished by those of us that were fortunate enough
to have experienced it for ourselves.
Your retirement wishes will make this retirement gift for your employee or coworker personal and memorable.
Thin Blue Line Police Retirement Wording Idea
Honoring Your Service
Presented to Retired Sergeant
In appreciation for over 31 years
of loyal and dedicated service to
the People of the City of New York. 
We, the members of the NYPD,
present this to you in recognition of
your many years of sacrifice and service.
FOREVER FAMILY
Once police officers join the force, they are part of a tight-knit law enforcement community. The unique "Forever Family Think Blue Line" clip art re-emphasizes to the retiring officers that they are always part of the family forever, that fellow officers will always be there for them and support them.