Recognition & Award Plaque Wording Ideas, Sayings & Phrases
Engraving a warm and personal appreciation message on something like crystal appreciation plaque is a powerful and meaningful way to say "Thank You". Appreciation wordings come from the heart, but sometimes it's difficult to put them down on paper. If you're stuck trying to craft the perfect appreciation plaque wording idea, it's important to keep this basic rule in mind - simple and sincere is better.
Use the below examples of appreciation wording ideas as a guide. These heartwarming appreciation messages are sure to make anyone's day that much brighter.
Employee Appreciation Plaque Wording
With Our Greatest

APPRECIATION

We Hereby Present

A Loyal and Dedicated Employee

With This Award in Recognition For
Your Ongoing Commitment
and Dedicated Service
Sample Teacher Appreciation Poem
Teachers
Paint their minds
and guide their thoughts
Share their achievements
and advise their faults.
Inspire a love
of knowledge and truth
As you light the path
Which leads our youth.
For our future brightens
with each lesson you teach
Each smile you lengthen
Each goal you help reach.
For the dawn of each poet
each philosopher and king
Begins with a Teacher
And the wisdom they bring.
~Kevin William Huff~
Thank you for being
a great teacher and friend.
We will never forget you and will always:
STRIVE FOR GREATNESS!
A beautifully designed crystal plaque, engraved with your favorite teacher appreciation poem, is a perfect way to say thank you to our amazing teachers
Sample Thank You Message to Music Teacher
With Our Deepest Appreciation
To Our Favorite Music Teacher
Thank you for your tireless efforts
in building our musical foundations
and your devotion to us, your students.
Thank you for all your help and patience,
we couldn't have made it without you!
WE LOVE YOU!
The flowing music notes together with a sweet message or inspirational quote set the tone for this popular music teacher gift. A perfect gift to show your appreciation for your favorite music teacher
Boss Appreciation Wording Idea
With Our Greatest APPRECIATION

Presented to

Our Boss and Mentor

For Your Unwavering Support And
Unrelenting Guidance That Helped In Leading
Our Path To Success. You Are Being Honored
With Much Appreciation And Gratitude
Say "thank you" to your boss with this sample appreciation wording and let him or her know how his actions made a difference in your career and your life
Thank You Message for Departing Board Member
Thank You!

A testimonial of sincere
appreciation presented to

A True Leader On Your Departure

In honor and with deep appreciation
of the distinguished and unselfish
service given to the Association while
serving with outstanding leadership,
vision and ability as president of
Purdue Korean Association
2011-2014
Show your appreciation for the outgoing board member with this elegantly designed crystal plaque engraved with heartwarming farewell messages
Donor/Sponsor Appreciation Plaque Wording
With Our Greatest

APPRECIATION

We Hereby Present

Our Generous Donor

For your continued generosity and love.
Thank you so much for all that you do.
You have made such an impact on all of us.
A donor or sponsor appreciation plaque offers a permanent reminder of how much you appreciate their support for your organization and the impact they have made
Pastor Appreciation Award Plaque Wording Idea
Honoring

Our Beloved Pastor

For Who You Are
For All You Do
We Honor You
You Shepherd Us
Guide Us
Change Us and Lead Us All
For God's Glory and
We Thank You

Savior Church Of God
Detroit, MI - November 2016

IN APPRECIATION
Express your gratitude to your pastor for his guidance and devotion with this sample pastor appreciation award message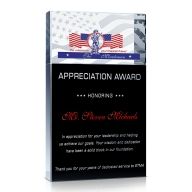 Sample Military Thank You Notes
APPRECIATION AWARD

In appreciation for your leadership and helping 
us achieve our goals. Your wisdom and dedication 
have been a solid block in our foundation. 
Thank you for your years of dedicated service.
Say a warm and patriotic "Thank You" to U.S. military men and women, honor them for dedicated service and sacrifices, express our gratitude for all they do to protect our freedoms at home.